"I want you to close your eyes for a moment, Doll, and when I snap my fingers, your body will mirror every stimulus you see in the video I am about to show you. Understand?"

​She found herself nodding even though his words made no real sense to her. They hadn't in a long time. All she knew was that she needed to obey Him because He was in charge of her well-being and everything else.

Today, he had taken her out on a picnic in the park near them. He'd brought two blankets even though she couldn't figure out why. They easily fit on one. She watched him unfold it and lie down beside her, covering them with it.

Then his hands were working her skirt down, unbuttoning her blouse, and undoing her bra. She understood the silent command and shrugged out of them. She was completely naked now. She never wore panties anymore. He didn't like them, so she didn't either.

His fingers quickly delved between her already swollen and wet folds to find her clit. She mewled as he pinched it.

He pulled his fingers away, and said, "Quiet." He spanked her pussy as a punctuation, making her curl into fetal position. His other hand grabbed onto her thigh, pinning her to his body in an open, vulnerable position.

His hand reached around her, showing her the screen of her phone. The screen was black, and just before she could ask why, she heard him snap next to her ear.


"We're almost there, Doll."

She had been hovering on the edge of her orgasm for the past five blocks. Though he walked behind her, he had his fingers fit snugly inside her, stoking the fire ever since he had dressed her at his home. She no longer saw him in his office, but in his bedroom where she was able to relax more and receive his treatment more effectively.

He must have felt her get wetter because he briefly pulled his middle finger out of her to swipe at her engorged and over-sensitive clit. She bit her lip to keep in the moan. They were in public and he had trained her to never alert others to his power over her.

He tightened his grip on her and steered her to the left before making her stop in front of a beautiful brownstone that revealed nothing of the debauchery she knew lay inside. How she had let her Doctor talk her into going to his monthly hypnotist meeting was beyond her, but here she was.

He pinched her and she began to climb the steps. With his other hand, he rang the doorbell for exactly three seconds before releasing it. He leaned closer and whispered in her ear, "Remember, Doll, head held high, but no direct eye-contact unless they explicitly give you permission. Nod if you understand."

She did and almost gasped at the rewarding thrust of his fingers. The door opened and a man wearing a button-down white shirt and black blazer took them in. She blushed as his eyes scanned her body and was relieved when he shifted his gaze to her Doctor.

​"Welcome, Dr. Joseph. We are so pleased you finally brought your Doll for us to play with." His eyes landed on her again, "You're quite something, aren't you?"

She didn't know what she was supposed to do. Was she supposed to answer? Her hesitation became moot when her Doctor spoke up.

"Yes, she is. She's quite open to suggestion, and always eager to please." He placed a kiss to her temple. "Shall we begin?"

The man nodded and gestured them inside. As they passed, he said, "I'm Mr. Stephens, by the way."

She realized this was a very wealthy business man. If he was here, who else was here? Her own Doctor was on the forefront of his field. It was likely to be a Mensa orgy. And her nerves were back. She heard her Doctor chuckle a moment before she felt his hand skim down her spine. "Sh, Doll. You'll be fine. I won't let them break you." She thought she also heard him mutter, "That's my privilege," but she wasn't sure.


"Miss Myers."

Skylar turned her head to look at Dr. Joseph, who was sitting in his leather armchair near her feet as she lay on the couch.

"You've been my patient for a few months, but

I would like to recommend a new form of treatment for you. I believe it will help you quiet your anxious mind and improve your mood by helping you focus on the important things in life."

"Of course, Dr. Joseph. May I ask what it is?"

"It's a modified guided meditation. I would like you to close your eyes and just focus on the sound of my voice."

She obeyed.

"Very good. Now, I want you to let any thoughts just pass through your mind. Don't try to suppress them or force them out. They will pass." A beat passed. "First, I want you to focus on breathing slowly."

She inhaled as deeply as possible, then slowly blew it out, feeling her breasts press against her lace bra with each inhale. A few moments passed before her breasts began to feel heavier and achy. Absent-mindedly, she reached up and cupped them, massaging her nipples. The contact sent jolts of pleasure to her clit and she started to get wet. Her skin began to feel hot and she began to squirm on the couch.
Powered by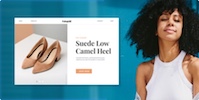 Create your own unique website with customizable templates.