It's only been a month, but the guy who was "training" me as a sub was moving way too fast. So, today, I said goodbye. He wanted to be my Dom, and wanted me to be a slave—something I thought I wanted but now realize is too much for me (at least right now). I don't wish anything had happened differently, he didn't scare me off from BDSM, but I will be taking a break to finish up my school year and get my life in order (for the past 2 years, I've struggled with depression, and I'm finally trying to tackle that so it can't get the best of me in the future). So, for now, I'm putting a pause on my BDSM exploration. But I'll be back.

I've been fantasizing about BDSM and submitting for about 2 years at this point (on and off because school gets in the way of everything fun), but today was the first time I really started chatting with a Dom who didn't immediately give me weird vibes. He said he'd train me and it'd be LDR, I'm being careful to protect myself and I doubt it'll really go anywhere, but I'm excited all the same.

​What was your first experience with BDSM?

Powered by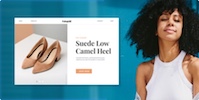 Create your own unique website with customizable templates.