Last week, I had more than a few times I saw some different Facebook friends sharing some pretty kinky memes that had me double-checking that I was on Facebook and not

my Twitter

. And then it got even crazier.

On my 21st birthday, I went out to drinks with a friend and learned that not only was she kinky, but that she's a switch (and most importantly, willing to go to Paddles NYC with me sometime in the future)! Funny how even in my vanilla life I attracted a kinky friend.

Have your kinky and vanilla ever collided serendipitously? Tell me down below.

"Miss Myers."

Skylar turned her head to look at Dr. Joseph, who was sitting in his leather armchair near her feet as she lay on the couch.

"You've been my patient for a few months, but

I would like to recommend a new form of treatment for you. I believe it will help you quiet your anxious mind and improve your mood by helping you focus on the important things in life."

"Of course, Dr. Joseph. May I ask what it is?"

"It's a modified guided meditation. I would like you to close your eyes and just focus on the sound of my voice."

She obeyed.

"Very good. Now, I want you to let any thoughts just pass through your mind. Don't try to suppress them or force them out. They will pass." A beat passed. "First, I want you to focus on breathing slowly."

She inhaled as deeply as possible, then slowly blew it out, feeling her breasts press against her lace bra with each inhale. A few moments passed before her breasts began to feel heavier and achy. Absent-mindedly, she reached up and cupped them, massaging her nipples. The contact sent jolts of pleasure to her clit and she started to get wet. Her skin began to feel hot and she began to squirm on the couch.
Powered by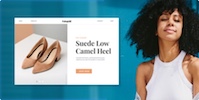 Create your own unique website with customizable templates.