I found these prompts from one of my favorite podcasts,

LovingBDSM

. They have it available as a

free email series

(which I signed up for but accidentally deleted one of the days—oops) and had to end up buying the

30 Days of D/s workbook

(it's only $4.99 and I was happy to support them). Today is my answering the first prompt.

What does dominance mean to you? Whether you identify as a Dominant or a submissive, you may have some picture in your mind of what kind of person is a Dominant.
​ What does dominance in a relationship mean to you? What traits will a Dominant have? How should a Dominant behave?

---

To me, dominance in a relationship is someone being in charge and having control over the day-to-day of the relationship. I talked a little about this in

Day 26

of the 30 Days of submission blog series, but I'll go further into it here: A good Dominant for me will be patient, in control, able to keep his cool or step away when he needs to clear his head, is stern when he needs to be, kind and gentle when the time comes, trustworthy and loving above all else. A Dominant will always behave fairly, treat his submissive respectfully as per their relationship agreement, push the submissive's boundaries (never breaking a hard limit), respect safewords, give aftercare, encourage his submissive to grow, and be open to clear communication and always learning.
Powered by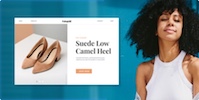 Create your own unique website with customizable templates.